Title
MAXIMISE YOUR BUSINESS POTENTIAL
Subtitle
Tailored for success - Ready for the future
Body
A tailor-made solution to help you better analyse your portfolio and take the best investment decisions!
We are industry pioneers transposing groundbreaking ideas into an adaptable software answering the needs of asset managers and insurers. Based on a unique and evolving platform, our software allows our clients to increase their operational efficiency, reduce their costs and face new business challenges.
Our experts consultants are committed to build the most adequate operational servicing mode, from consulting to a full outsourcing's package, to offer you simple, effective, and innovative solutions. We provide a strong expertise to our clients, by taking the time to listen and understand your daily challenges.
Title
KEY BUSINESS DRIVERS
Subtitle
Performance and efficiency with an innovative software
Horizontal Components
Icon
Image

Number
1500+
Title
Computation functionalities
Body
Quantitative and qualitative functions for automating reporting
Icon
Image

Number
50%
Title
Reducing operating cost
Body
Integrated solutions to automate workflows
Icon
Image

Number
35%
Title
Cost savings
Body
Save time and money and make your business more efficient
Title
Asset management & insurance software
Subtitle
Reinventing the investment experience using up-to-date and integrated solutions
The future of investment
A global and multifunction software for in-depth investment strategies. We help you better analyse your portfolio and take the best investment decisions
AMDIS for Asset Managers
A tool producing high-quality analytics and reports answering the needs of yourbusiness challenges in an automated processes
Image
Image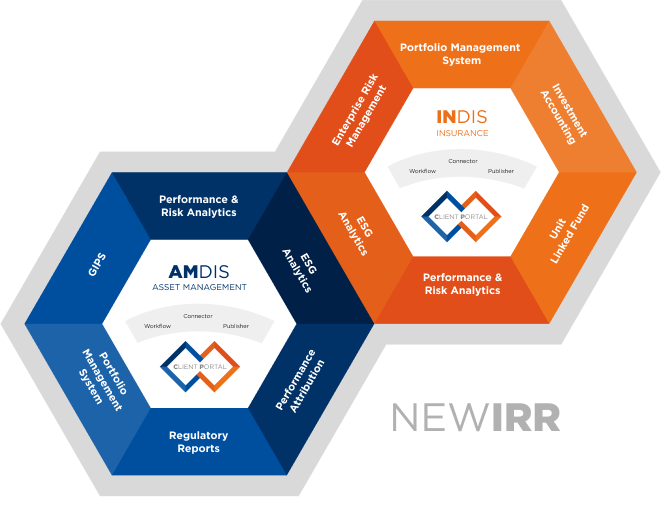 Build Concepts, Not Code
A unique development approach allowing a built-in code with advanced architecture. for a customisable sofware solution to address the challenges of your business
INDIS for Insurers
A complete integrated solution that complies business requirements, management needs and reglementary directives by combining operational efficiency, high-quality analyses and reports.
Title formatted
A
mind

is chosen

Subtitle

Thank you for your trust and our collaboration!

When Securex decided to automate Branch 23, AMINDIS put in place an efficient procedure thanks to the availability and expertise of its teams. The integrated IN-DIS solution allows the automation of the management of subscriptions, repurchase as well as fees, in order to calculate and publish the investment values within the deadlines. We are very satisfied with AMINDIS' support in this project, which has succeeded in meeting our need for automation, while integrating our data constraints and our specific needs in terms of reporting.

Last year, we decided to enrich our offer with new reports on our SRI funds. In order to industrialise the production of the original factsheets and ESG reports we had developed, we naturally turned to the AMINDIS teams, with whom we have been collaborating for over 20 years. AMINDIS quickly proposed a project plan that was deployed in a short time and at a very limited cost, in the AM-DIS solution. The flexibility of the tool and the efficient collaboration with AMINDIS allowed us to automate the production of our factsheets and ESG reports, just as we had imagined.

I had the opportunity to lead the implementation of AMINDIS' AM-DIS solution for an asset manager located in Lausanne. The solution was chosen by the client to support and automate the work of the Performance and Reporting team. We worked closely with the AMINDIS' team. I particularly appreciated the team's professionalism and business and technical knowledge. The project was carried out in a good atmosphere, allowing us to deliver it according to the client's priorities and to their satisfaction. Talan would gladly do another project with AMINDIS.

Belfius Insurance was able to take advantage of the experience shared in the past with AMINDIS during the implementation of the IAS39 standard in order to replicate a large majority of the mechanisms useful for the IFRS9 standard. The addition of certain elements in the securities and transaction reporting allowed us to put in place the various accounting rules and controls to ensure quality figures. We were able to continue producing figures under the old standard (IAS39) while preparing the new standard (IFRS9). This made the transition much easier. The success of this project was made possible by the powerful tool and the excellent collaboration with the AMINDIS staff.

Since 2019, we have another challenge to face: IFRS17. While IFRS9 is about assets, IFRS17 focuses more on the technical results with a completely different accounting treatment. This standard once again forces us to rethink the accounting headings used for some of our assets. The IN-DIS tool gives us flexibility in our work as we know that we can easily reclassify our assets (where this is allowed) and add ledgers in case of comparison of figures over a period of time.

Jeremy Sigart
Securex - Investment Advisor | Invest

Philippe Denef
Degroof Petercam Asset Management - CIO Quantitative Equity & Asymmetric Asset Management & Member of the Management Board

Regine Garnier
Talan - Senior consultant ​

Christophe Dedriche
Belfius - Business Project Leader & Senior Business Analyst
Title
Stay up-to-speed
Subtitle
Spotlight on our latest achievements
Products