Title
Unit Linked
Subtitle
Should we expect a sustained enthusiasm for Unit Linked?
Title
Milestones
Body
Since Unit linked creation in 1993, the evolution of collected premiums for this product has been variable. The product is highly dependent on both fiscal law and the stock market.
Let's see the variation in collected premiums at some milestones.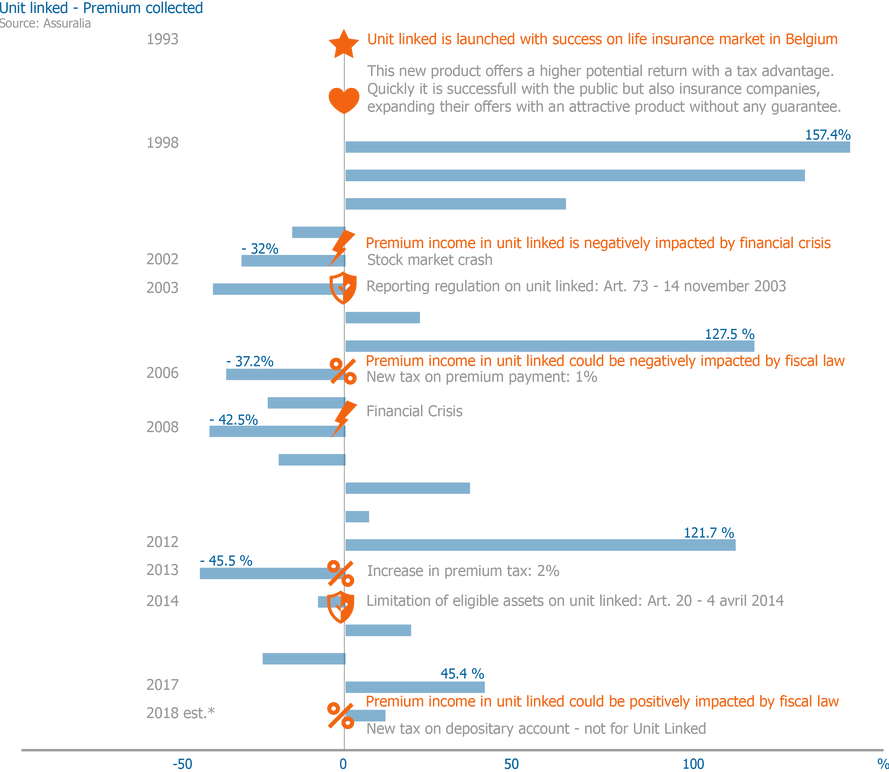 Note: * Estimations done at 1/2/2019 – Final figures will be available on www.assuralia.be in the autumn of 2019
Title
Today and tomorrow
Body
Low interest rates and the introduction of the tax on securities accounts, introduced in 2018, offer a competitive advantage for unit linked products over all other investment products. An increase in premiums paid has already been observed in both 2017 and 2018. This competitive advantage will continue in the coming years, which should maintain the current enthusiasm of customers for Unit Linked.
Today the market offers Unit Linked products with a very varied choice of investment strategies. The customer can really find the product that matches his risk aversion. However, in view of the uncertain economic climate, it is expected that the customer will require certain guarantees. Hybrid products in class 44 (class 21 + class 23) could become more and more popular.
Image / Video
Image
Title
Challenges
Body
Short timing between daily subscriptions in contract and investments in underlying assets
Short timing to calculate NAV with all fees issues management:
Fixed - that may exceed the subscription amount
Variable
Short timing to communicate between multi data sources for subscriptions on the one hand and NAV on the other hand
Image / Video
Image

AMINDIS offers a solution to automate unit-linked management and reporting.
The unique and integrated software INDIS provides business functions to automatically manage subscriptions and investments, calculate fees, produce and publish NAV, and develop regulatory and ad hoc reports.
View our Webinar
Download our One-Stop-Shop Solution
Ask us for a Demo.